CA Diaries Super Sixes 2016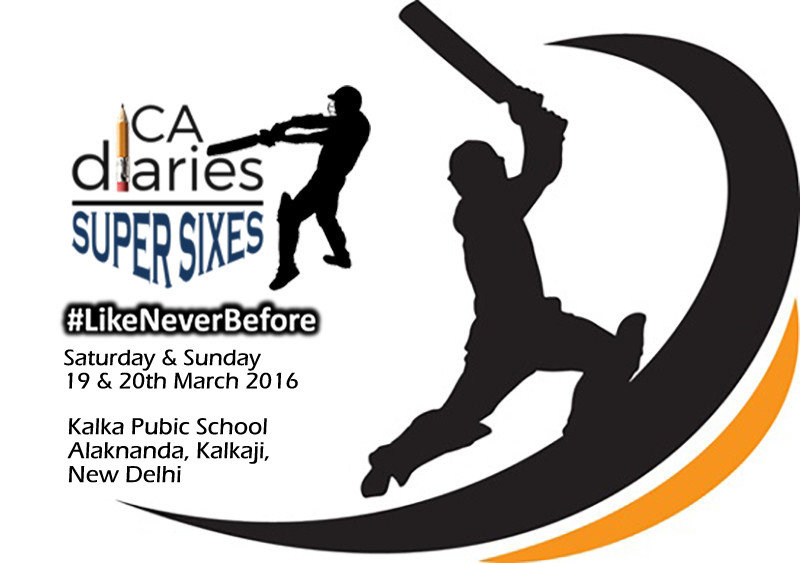 Map Unavailable
Date/Time
Date(s) - 19/03/2016 - 20/03/2016
All Day
After the super success of CA Diaries Football League 2015, on public demand, we bring to you the most popular sport in the country !!
Come weekend 19-20th March 2016, and you shall witness the most electrifying cricketing tournament in the history of CA Fraternity –
|| CA Diaries Super Sixes 2016 – #Cricket #LikeNeverBefore ||

Unlimited 4's & 6's
31 Matches | 24 Teams | 8 Groups | 2 Days | 1 winner !!
Ball by Ball Match Commentary
Live Music by the biggest performing society of CA's – CA Diaries Unplugged
Live in match dance performances
Event MoC – Radio City's Keshav
Super Sixes Format
> 6 fascinating overs a side
> Tennis Ball
> Team Size – 8 + 1 Super Sub
> Only 1 bowler can bowl a max 2 overs
> 7 wickets in each batting innings
> 1 Game Changer Over with Innovative Rules
> State of the art cricket field with professionally maintained pitch
> Knockout matches under Floodlights
> Minimum 2 matches for every side
Team Composition – CAs and CA Students Only
> Atleast 2 CAs mandatory in every team
> Atleast 1 over by a CA
> Atleast 1 batting opener shall be a CA
Venue
Kalka Public School, Alaknanda, Kalkaji, New Delhi
Prizes & Rewards
> Trophies for the Winning Team and Runners Up
> Medals for all Winning and Runners up Team Members
> Medals for Man Of The Match in all the Matches
> Golden Bat for the Max Run Scorer
> Golden Ball for the Max Wicket Taker
> Participation Medals for all the Players
> More goodies for the winners & star performers from our sponsors to be announced soon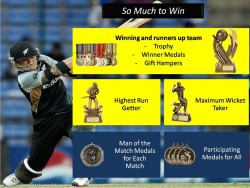 Participation Benefits
> All Team Players get a Branded Dry Fit Customized Jersey with the Team Name worth Rs.699
> Refreshments – Glucose, Cookies, Fruits, Sandwich
> Team Lunch
> Mineral Water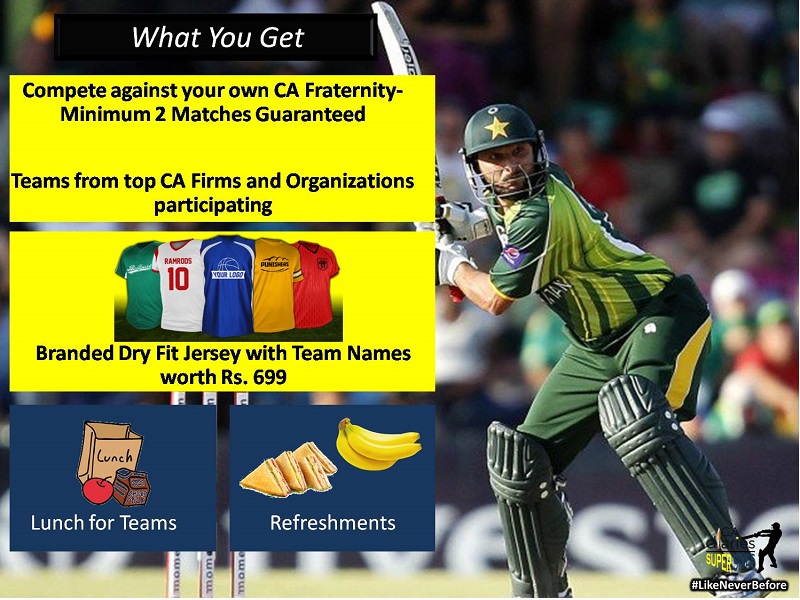 Sponsorship Inquiries;
Firm & Franchise Team Registration Open!
> Contact : Ankit Bajaj
> E: [email protected]
> M: +91-9999830881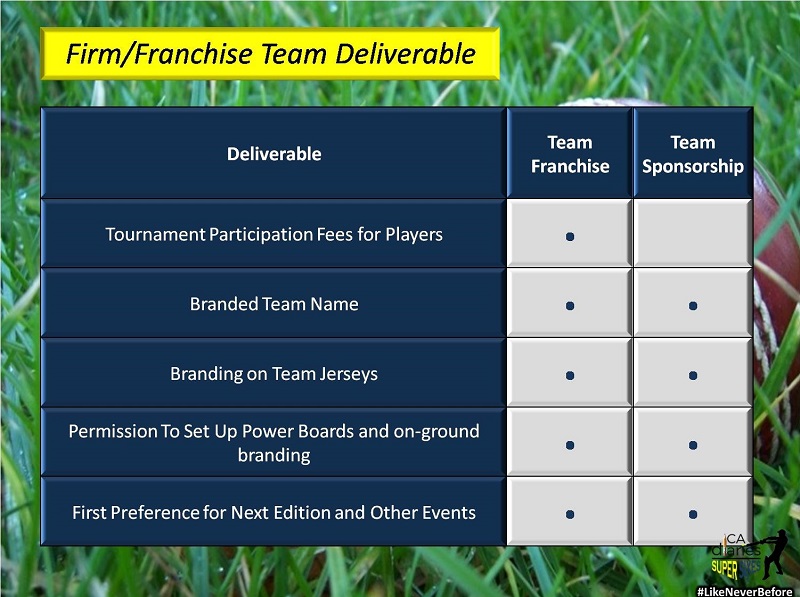 Registrations Fee for Players
Early Bird – First 4 teams or till 20th February: INR 1000 Per Head X 9 players (8+1 super sub) = INR 9000 – CLOSED NOW!
21st February onward: INR 1200 Per Head X 9 players (8+1 super sub) = INR 10,800
Team Registrations are subject to availability of slots. Booking here does not promise you a confirmed slot.
Women's Cricket Exhibition Match
> 1 Match Each for 2 Teams
> Customized Team Jerseys and Refreshments
> Particpation Medals for all
> 20th March 2016
> Registration Charges: Rs. 600
> For any Queries Contact: Siddhi Jagani
Call: +91-8130331292
Whatsapp: +91-8233484792
Online Registration Link : http://cadiaries.com/events/cricket2016
Book You FREE Entry Ticket Just Below or Click Here > 

For Any Help –
Drop your queries to: [email protected]
OR Call/Whatsapp:
Nitish: +91-9996819049
Sarthak Goyal: +91-9899444961
Nikhil: +91-9711106335
Arunima: +91-9953645315
Disclaimer: All the information related to the event are tentative in nature and are subject to last minute change. All rights reserved. Entry to the event only by invitation. In case of any unforeseeable circumstance such as rain, no refund shall be provided.
Bookings
Bookings are closed for this event.