Sehat Singh – CA Kulvinder Ruhil
CA Kulvinder 'Sehat Singh' Ruhil – CA DiariesIs fitness in your list of New Year Resolutions? Meet the Salman Khan of Chartered Accountants – CA Kulvinder 'Sehat Singh' Ruhil. Know everything about him, click here > http://cadiaries.com/2015/12/sehat-singh-ca-kulvinder-ruhil/

Posted by CA Diaries on Tuesday, December 29, 2015
Is fitness in your list of New Year Resolutions? Meet the Salman Khan of Chartered Accountants – CA Kulvinder 'Sehat Singh' Ruhil.
As you enter the gym, you realize that it is not your typical gym with air conditioners, peppy music or state of the art machinery. The paint on the walls is flaking and only a thick rubber mat has been spread as flooring. With only weights and mechanical machines available for exercise, it is, as they call it, an 'Iron Gym'- the gym for 'real' body builders. Instead of plump stomachs trying to keep up on the treadmills, there are well toned muscles doing ab crunches, push ups and weight lifts. At left corner, near the window, busy with his bench press, is where we spot him, Kulvinder Ruhil. Toning his already 8 pack abs, we are left wondering, "Is he really a Chartered Accountant?"
For a fraternity,where cervical, neck pain and obesity are like epidemics, meeting a practicing Chartered Accountant who is a fitness freak is in itself an oddity. His physique can make even the top super models go green with envy. To make things more extraordinary Kulvinder was a gold medalist in CA-Final exams. He is also a poet and is the brainchild behind the comic character, 'Sehat Singh'.
Born in July 1987, Kulvinder has been a fitness fanatic since his school days. The fanaticism wasn't limited to gym and muscle building, but also included healthy lifestyle and food habits. He has done several modelling assignments during his college days and has also won medals in sports meet for his college. Even during the CA Articleship, when for most of the students health takes a back seat, he used to get up as early as 4 AM for exercise and gym, before leaving for classes at 6.
Kulvinder's efforts were shaped by his mentor Mr. Yashpal Solanki, national level judo coach and an Arjun award winner, and Mr. Mukesh Singh Gahlot, who is a former Mr. India. He is also grateful to Mr. Aakash Shinghal, his principal under whom Kulvinder did his Articleship, for supporting and encouraging his passion.
In 2015, he participated in an event called 'Jerai Strongman of India', where he managed to pull a truck weighing 7500 kg for a distance of 150 feet in just 22 seconds. The efforts won him the particular event and made him probably the only Chartered Accountant in the country to have achieved a feat like this.
Kulvinder's zeal for fitness has not been limited only to himself. Apart from his Chartered Accountancy practice, he has been a fitness guru and a trainer at various gyms in Delhi. He has also taken special training sessions for national level athletes.
However, the procrastinating attitude of people towards fitness and their usual stint with gym which never lasts over 15 days,prompted him to take fitness beyond the walls of gym. This gave rise to 'Sehat Singh', a fictional character whose mantra is to spread awareness regarding healthy lifestyle among people through quirky humor and one-liners. The thought behind the concept has been not to just preach fitness to people, but to do so in a way that has a longer impression on the minds of people. In order to have a character to which a common man could relate to, Sehat Singh has been caricatured with thick mustache and Indian attire (read: dhoti). Within 6 months of launch, Sehat Singh has got more than 5000 fans on facebook.
Famous among his friends circle by his pen name, 'kulu kamali', Kulvinder has also been writing poems, on social issues. Though he considers himself only a novice in poetry, poems are something one doesn't expect either from a Chartered Accountant or from a body builder. The fact that all Sehat Singh's cartoon and one-liners are conceptualized by him further bestows his creative side. During the interview and video shoot, we realized that behind this man of steel lies a rock strong vehemence to serve society. Kulvinder has made 'healthy society' as the purpose of his life. Very recently, he has completed half century of blood donation.
On being inquired if CA was more tough or 8 pack abs, he humbly replied that nothing was tough. All that is required is following a routine and enjoying everything one does. At an age as young as 28, Kulvinder Ruhil has been successful in breaking several stereotypes. The image of a Chartered Accountant with a potbelly, broken! The impression that body builders know nothing beyond their gym, broken! The general belief that CAs and body builders are not creative; his cartoons will be an eye opener for many! And as Kulvinder talks about his future plans, one realizes that this in only a beginning. Very soon, he will be bringing Sehat Singh into real life- to the schools and corporate world educating them about healthy living. He is also acquiring International fitness trainer certification to back up his 14 years of experience in fitness. In his own words,  "tamanna bakhoob hai dil mein mere, kuch puri ho gyi, kuch raste par hai"
At CA Diaries, we would like to congratulate Kulvinder Ruhil for showing the world, especially the youth working in the corporate sector, the way to ensuring a healthy lifestyle. As he summarizes, the cost of hospital is far higher than the cost of maintaining your health and a 20 lakhs package is of no use without a fit body. We, at CA Diaries, would also like to thank Kulviner Ruhil for showing up at our Football League 2015 and providing some useful tips regarding health and fitness.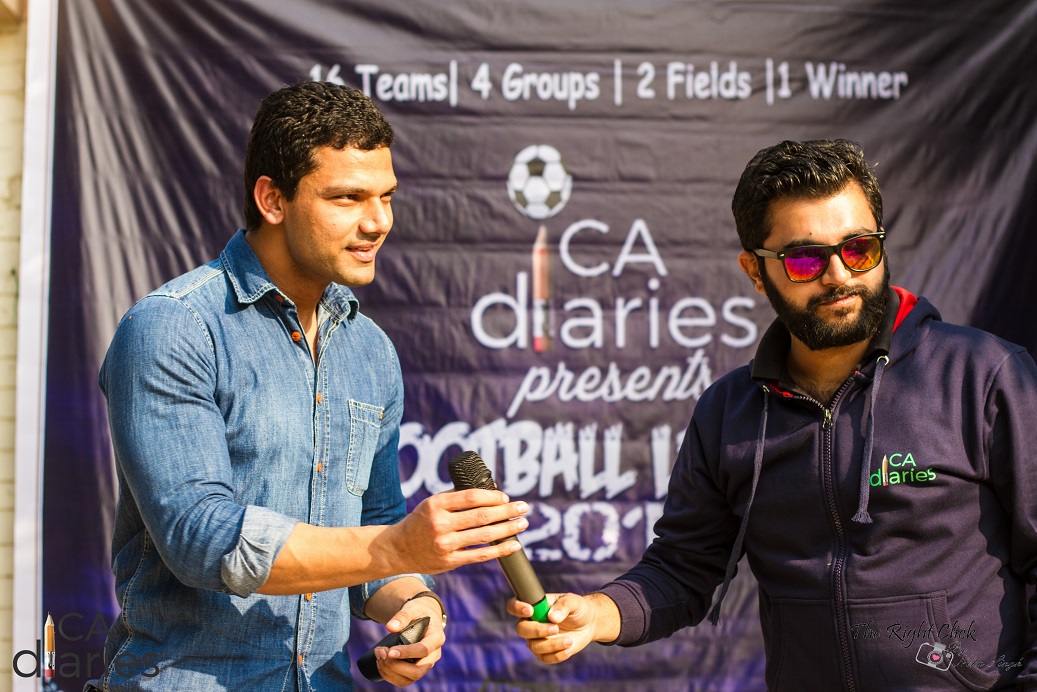 You can follow Sehat Singh at www.facebook.com/thesehatsingh or visit his website www.sehatsingh.in in order to wake up everyday a little healthier than yesterday.