From Humble Keyboard To Grand Piano – Ram Shankar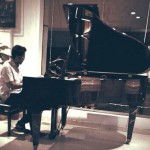 Listening to music is a stress buster for most of us, but to master the art of playing an instrument and that too an instrument as grand as a piano is no small feat. Meet Ram Shankar, a wizard who creates magic with his fingers, a CA Final student currently pursuing his articleship from PwC. At a very young age, Ram tried his hand on various instruments including Harmonica, Flute, Guitar and Keyboard. With encouragement from his dad to learn and play different instruments, soon he was playing them all with relative ease. But it was the keyboard that struck chord with him and at the age of 12 as he shifted his focus on keyboards only. Initially, he used to read formal books and watch YouTube videos to teach himself. Soon enough the hard work and dedication towards the art started to pay and he moved from the humble keyboards to the grandeur of piano.
He started playing in his school orchestra (with over 100 instrumentalists) and at different cultural programs, college events and competitions. One of the most memorable and rewarding experiences for him has been an impromptu show at a café in Basant Lok, Delhi. The crowd at café was difficult and unwelcoming and yet, he succeeded in getting them to sing the tunes with him during the show.
Even with the hectic schedule of articleship, he has not swayed away from his passion. In fact, he believes that it's his passion that helps him keep up with this stressful life.
Till date Ram finds at least half an hour each day to play the piano, be it late at night after returning from office or early morning and he intends to continue this even post qualification. From past two years, he has also been taking out time to pursue formal training and polish his art further under the mentorship of Mr.Ronald Lalloo. He also plays in a band called 'Dhun Fanatics'.
Ram believes that piano has been one of his biggest emotional supports in life. In his words, "When you are truly scared, in love, angry or happy; you are generally not going to think with words. It's a pure feeling coming from your heart and piano does an almost perfect job of conveying this wordless emotion. It's my emotional support. It's one of the most romantic instruments."According to him, if one actually loves something, they will always find time for it.
It is the Ram's passion and love for music that has taken him to such heights and with A.R. Rahman as his role model; he intends to even achieve greater heights in music and also in his professional career.
Listen to more of his music at the below links :
www.youtube.com/watch?v=NYuy9c8H_uY
His band's Recording:
soundcloud.com/dhunfanatics/dhun-fanatics-mashup