Salaam Zindagi – My Magnified World – CA Himanshu Bakshi
We meet a lot of people every day. Some we remember, some we don't. And then there are some that leave such a great impact on our lives that it is impossible to forget them. Today, we talk about such a person, who amidst all social, attitudinal and architectural barriers placed by the society to disable the differently-abled person, kept his head high and chooses to live life on his own terms.
CA Himanshu Bakshi, the hero of our story, at 3 ft. 8 inches tall suffers from dwarfism. Where most other people in his position would shy away from limelight, he has used it as his advantage, making his resolve resolute. Taking the world head on, he has written articles on society-centric issues for various newspapers. He has been a part of Derek O'Brien's Bournvita Quiz Contest and few Television talk shows. Further, he has been a member of the Debating Society and has participated in stage plays for National School of Drama groups. He has delivered few technical as well as motivational speeches for upcoming CAs and corporate.
This man, beyond doubt, has got all reasons to smile in life and declare that he have lived a purposeful life.
Chartered Accountancy enabled him to celebrate his love for numbers and finance, while fulfilling his father's dream to see him settled in a respected profession. So, we get the answer to the question 'Why CA?' Further, he went on to add another professional degree to his achievements and completed LLB meritoriously.
The toughest part of being a dwarf is the lack of dignity afforded to them by society at large. It wasn't any different for Himanshu. He explained, "I could strongly feel the negativity in the environment every time I stepped out of my home. Including myself in the society was never easy. The mentality of people to look down at the differently-abled person needs to drastically change and there's absolutely no certainty of that happening. Therefore, I chose to turn deaf to the comments of the society. Every time the society tried to pull me down, I took a step higher".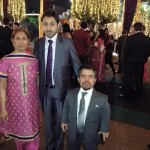 He was always encouraged by his parents to attend mainstream school. And he did. When he was in Grade IV, he had to swap to a new school. He recollects his first day in school, "When I entered the classroom, everybody in the class laughed at me. I didn't understand the reason then. Now I do. Himanshu, owing to his own experience, was empathetic towards others less fortunate and when he was only 16 years old himself, took the financial responsibility for a small orphan child's education. A flood of pride rises in him while he tells us, "Now the girl is in Grade IX." We were awestruck. Since then he has been involved in other charity work also and continues to strive for equality in the society.
While talking about his challenges and hurdles in the journey of Chartered Accountancy, he responded, "I am the guy who stood for 3 hours in the exam hall for every subject, because I couldn't reach up to the benches. Considering how difficult cracking the final level of the exams is, I still can't believe I used to do that." He added, with a crop of disappointment, "Dad was no more in this world to see me become a CA. It was his dream that I wanted to accomplish and I am sure that he was the proudest person up there in the heaven, the day I accomplished it"
Currently working in Ernst and Young (EY), he feels blessed having got the opportunities that he was given. Having showed others that positive attitude and determination goes a long way, he rightly got the "Most Inspirational person of the year" award last year from his previous employer at Deloitte.
He strongly believes that 'Chartered Accountancy', the profession, distinguishes one from the ordinary people. He observed change in the perception of people about him, the moment he said that he is a 'CA'. The degree has fetched him recognition along with salutation. With a smile full of subtle charm, he says about CA, "Jawani chali jati hai, par Zindagi ban jati hai"
Himanshu talks about 'Journalism' being his second choice after CA, his take being, "Media plays such pivotal role in everybody's life now. If you can't achieve something by your words or actions, media can do it for you. My post on Logical Indian has gone viral! Celebrities and people from all walks of life liked the post and thanked me for spreading the awareness. And so there's still a hope."
When he was asked about his inspiration in life, he did not take a second's time in naming the three people; Dr. APJ Abdul Kalam, Sir Stephen Hawking and his mother.
Himanshu carries no regrets at all. "I have got so much that even a normal person does not get. My parents, my Almighty are here to help me, I am blessed. When people look at me, they bow down at me and I look up to them!" he laughed.
He has some very simple and yet important messages:
Try accepting differently-abled people the way they are. Ridiculing somebody else's dignity brings you no reverence. Just your smile can bring some joy to them. You have no idea how much pain they are going through mentally and physically.
Give due regard to your parents. Love them, obey them, and worship them. They have no demands, but love for the children.
Inspire before you expire.
Live your passion. Start by taking few steps towards it. Your will show you the way.
Do read the book – 'The Secret'
To all those differently-abled people – cut the society stigma. There's a beautiful world awaiting us.
In the end, what has been given to us, has been given for some purpose. You are one of your own kind. Most people never live up to that. But Himanshu is living up to that.
What a smart, thoughtful guy!
Video Credits:

Post Production : CA Krishna Vatsal Tyagi

Camera & Direction : CA Ankit Bajaj