AM I THERE YET- The Wanderlust of an Auditor
In my 'head', I always thought of myself as a tough girl, a girl with some uncanny ability and a travel enthusiast. But the 'reality' was that in my entire 21 years of life, I had never been allowed to go anywhere outside the city, without my parents, not even school trips or excursions. That was when I breathed and shouted in disbelief, "Wait, What!"
It is said that 'Forbidden fruit tastes the sweetest'. Always saying "No, I can't" to teachers, schoolmates and friends, I have had just enough of everything. This time around, I was resolved to change the state of affairs and meet the temptation.
A night before the Articleship interview-
Dad: Make sure you mention that you aren't allowed to go for outstation audits. Am I clear?
Me: Of course, Papa, I know that!
Next day-
Interviewer: Okay, we do have outstation audits and there's absolutely no space for discrimination on the basis of gender. This was briefed to you earlier, right?
Me: Of course, Sir, I know that!
YES, I did this! I manipulated because I was that tempted!
Now I was in my second year of Articleship and, hush, hush, hush, there it came like a gush of entrancing melody.
"You are going to Goa for 25 days. You'll be boarding your flight on 1st of May and it's just you and Khyati." With every single word the Audit Manager uttered, calmness was settling in my spirit.
Let me explain it to you in #hashtag format:
#MyFirstEver #OutstationTrip #FirstTimeFlyer #It'sGOA – 'The Land of Allowance' a #FiveStarResortAudit #25days #MyBirthdayInGOA Whoa!!
"Wait! What?"
Along with the fever of enthusiasm came the toughest hurdle of my life, i.e. convincing my parents. Sigh!
On my way back home, it felt like I was entering into a war zone with the thunderstep music playing in the backdrop. I and Dad had an aggressive discussion for hours and my brothers provided us with occasional background laughs, every time I made my point. That's sibling violence, I swear!
And finally I emerged victorious over everything, mainly because I played the-usual-victim-of-emotional-blackmail card and turned the table this time.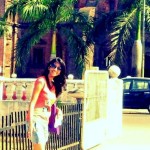 Then came the time for shopping, getting all those clothes which I could never wear in Delhi. From Jumpsuits, to Flip-flops, to hair accessories, to anklets, I got them all. While packing, my Mom had to remind me that I was going for an official work and should carry formal clothes as well; this had indeed escaped my mind.
The first time flight experience I had was unbeatable. I have severe motion-sickness, but I was able to beat it during this journey. Well, actually there was this cute French guy sitting next to us and I gave my brain innumerable instructions to resist vomiting in front of the handsome. Leon Brown has stated,"It all begins and ends in your mind. What you give power to have power over you, if you allow it". Hence, it was proven that day.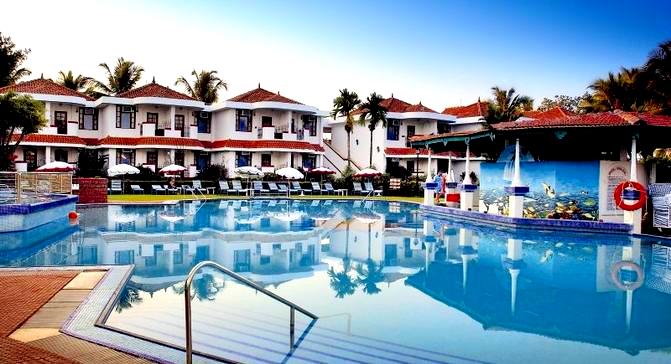 Three hours and there we were. Goa welcomed us with bright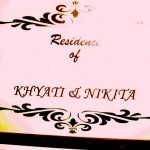 sunshine. We reached the resort, which was nestled in South G
oa's most serene locale, adjoining the Arossim Beach and where guests are welcomed in true Goan hospitality style. One such specimen of their hospitality is the board that welcomes you at your cottage door, ours read -"Residence of Khyati and Nikita". ☺
This audit was highly crucial for me and Khyati, because the Audit Manager had shown immense faith in us by sending just two Articled Assistants for such important audit. Going by the Audit Plan, we had no spare time to explore the charming destination, as we had to work overtime. Therefore, we decided to concentrate and work for six days in the week and then get lost in the narrow roads and fascinating beaches of Goa on Sundays.
The next morning, we began to work as per the Audit Schedule which we had finalized a day before. Given that it was really challenging to concentrate on work while one is in Goa, I gave up within 2 days. Now, every day, after office hours, I used to grab a bicycle from the Resort and go to the Arossim Beach, sit there for an hour or so and feel some delicious throng of sensations in the silence. It was magical!
The first weekend, we explored the magnificent Gothic churches of Old Goa, then headed to the Paradise Cruise on the Mandovi River and then to Fort Aguada. When you walk around a little in Old Goa, it's easy to get hooked on the houses as they still have the colors and
textures of the Portuguese era. The next Saturday we left early from the client's office for Dona Paula Beach, which is settled on a rocky, hammer shaped headland and had such thrilling breezes blowing all over. We then took a quick round of Baga, Colva and Anjuna beaches on Sunday.
Being a vegan, Goa had nothing much to offer to me in terms of food. But yes, Khyati had the time of her life feasting on the variety of seafood flooding there.
Alright, then came my birthday on the next Sunday which called for some heavy dose of adventure and there we went for parasailing, jet-skiing and go-Karting. To my surprise, I had few considerate friends who couriered gifts from Delhi for my birthday. That was the most incredible birthday, I've ever had – water sports to the Casino and the night life. We danced some! We drank some! We stayed up till 5 am in the morning to work on our Audit Report and then we ran to the beach to see the blindingly beautiful sun peeking over the horizon, mixed with the blue clear waves.
Yes, this was the finest part of my life and furthermore, the ONLY outstation audit I've been permitted to go. By the way, we were highly appreciated for our work in this internal audit, by the Manager, Audit Partner and the Client. A sigh of large contentment! Absorbed in the scent and murmur of this paradise on earth, I was all rejuvenated.
Life in Goa can be summed up in the graffiti I saw on one of the walls there: "Goa is like a fridge, because everyone just chills here!"