CA Diaries Unplugged 2016 : Audit Report
Seven months ago, on CA Dairies, we set out on a journey to bring out the other side of Chartered Accountants, which might have been suppressed deep below the layer of numbers, sections, case laws, etc. We set out to find means for bringing studies and passion/hobby in synergy. Our course being a Distance Learning Course, the creativity and aptitude of many among us is deprived of an opportunity of being showcased to the world.
'CA Diaries Unplugged' the first ever edition of a Musical Event, powered by 'Startup Movers' was yet another successful attempt towards breaking the shackles of Correspondence, by letting the musicians and singers in our fraternity play/sing their hearts out. With this move, Team CA Diaries aims at building a skilled Music Society that can represent Chartered Accountants at various prestigious platforms across universities, colleges and institutes.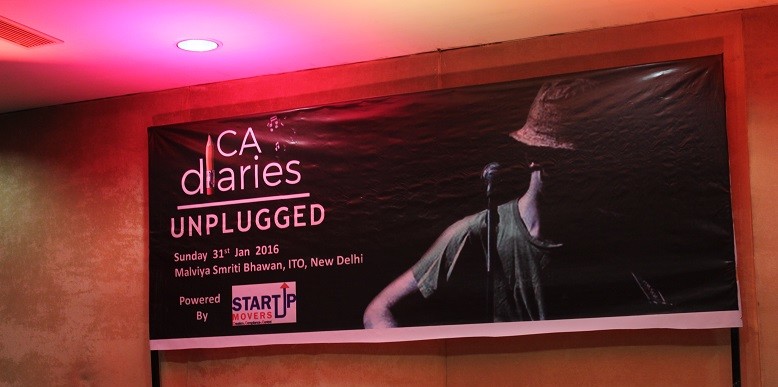 "Music is a moral law. It gives soul to the universe, wings to the mind, flight to the imagination, and charm and gaiety to life and to everything," said the Greek Philosopher Plato.
Early on Sunday morning, on 31st January, 2016, in the premises of Malviya Smriti Bhavan, ITO, New Delhi, assembled 30 participants from the CA fraternity who wished to touch a chord, and to witness the first ever Core Musical Event in our Community, there was present an enthusiastic audience. Performing CAs and CA students were ranging from different age group stretching from 20 to 50 years, from different cities like Delhi, Jaipur, Ludhiana, varying from Vocalist to Musician to Composer to Rapper. Yes, we had them all!
The stage in the dark auditorium was all set with different lights and all the vital equipment and instruments. The event was segmented into two halves, 'Open Mic' and 'Featured', wherein the participants were allotted 3 and 5 minutes time respectively. While auditioning for the event few days earlier, around 15 participants who were found to be exceptionally worthy were selected to be featured on the 'CA Diaries Unplugged'. However, due to the overwhelming response from the CAs and CA students, further applicants were accepted and were chosen for the 'Open Mic' segment.
CA Anjani Kumar Sharma a.k.a. 'AKS', the Founder of CA Diaries, commenced the event and talked about the advent of Music in India and its origination from the famous classic 1958 Tequila Song. Every time you meet AKS, you discover yet another talent that he possesses. Thanks to CAD Unplugged, we discovered that he also plays guitar and Harmonica. Sigh!
I, being the fortunate one, had the opportunity to host this vibrant event. And trust me, I had not met such vivacious and spirited CAs-cum-musicians until that day. The Programme began with the 'Open Mic' segment with the soft Retro song 'Mere Mehboob Qayamat Hogi' beautifully sung by Himanshu Garg, a CA Final Student. And the start being so wonderful, we weren't ready to bargain for the upcoming acts. And then what? It was astounding performances one after another. The fever of enthusiasm was deeply felt in the auditorium. It looked like across the gulf of years, one has been kept detached from this segment of their life, and that day Magic happened!
CA Gaurav Dang, had the whole of the audience sway and sing along with him. CA Final students Anand [Vocalist] and Rakesh [Guitarist] performed marvelously on Retro Bollywood numbers. Bhanu Joshi set the stage on fire, with her melodious rendition of 'Teri Galiyaan'. Variety is the spice of life, they say! Next up, we had a Rapper from our CA Fraternity, Neer AJ, performing on his composed Rap 'Training ki Baat'. With an ever-so-charming and entrancing voice, a man of matchless modesty and humbleness, CA Umesh Kumar Varma, also performed on the finest Retro songs.
Our featured artists, Chandra Kant and Rohit Mittal, managed to make the crowd cry out for an encore. They both sang and played guitar themselves on Kailash Kher's toughest numbers 'Saiyaan' and 'Preet ki Lat mohe aisi lagi' respectively. Another such vivid and arresting performance was of Mayank Datta [on vocals], accompanied by CA Kashif Khan, who played Sarangi, and CA Ankit Bajaj, on Guitar.
The ever so remarkable fusion of bold and soft voice of our Featured Artist Jagjit Singh [There can be more than one person with the same name, please! :-)] succeeded in mesmerizing every single person in the audience. Also, CA Aatur Wahee, joined us to perform on one of his own strikingly written composition.
We had two beautiful Divas Arunima Pandey and Aastha Gupta, who took the show to another level and lifted up their voice to Western peppy numbers.
Yet another performance by the very handsome Vaibhav Arora who is a skilled guitarist, a flute player, keyboard player, a singer and of course, a Chartered Accountant, managed to develop joyous rush of sensations. Divyanjali Sharma delivered her show in the most graceful and angelic voice. Further, Rahis Azam Saifi, rightly labelled as the 'Rockstar of CA Fraternity', wearing a leather jacket, played guitar and sang Ankit Tiwari's hit numbers. Floating in the clouds of melody, the audience cheered for yet another Artist, CA Krishna Vatsal Tyagi, who had an amazing set of songs to play for us.
The atmosphere sucked us into the aura of the music.
The highlight of the show was CA Ankit Bajaj, the Co-founder of CA Diaries performing on his own composition and swaying the audience into a somber and breathless calm. The poetry before his song, still runs across my head like some soundless breeze just whispered into my ears, "Teri Masti mei yun dooba tha, Naa koi Masjid Naa waha koi Kaaba tha, Thi bas tu aur mai…"
All this while, we had Abhishek Sharma, a CA Finalist and a integral part of our just founded music society all stuck to his Guitar, passionately matching chords with every singer coming on stage. Also, special mention goes to Amit Panjiyar, also a CA Final student from our team who captured all the photos for the event.
That crazy Sunday morning, we discovered that our CA Community has such enormous amount of talent and that needs to be showcased. Through the hours, we were all stunned to have found that the auditorium was filled with many extraordinarily gifted people. We all did feel and experience the power of Music, the power that took us to a world away from this world to infinity and beyond.
Glowing with haste and happiness, the Team CAD assembled on stage and around CA Anjani Kumar Sharma and performed on some groovy Bollywood numbers and also on 'Nirma, Washing Powder Nirma.' Umm…Yeah!
Such a satisfied sense of pride we, as Team CAD, experienced. The day was gracious.
Last but not the least we would again like to thank our event partner Startup Movers. Startup Movers aim at providing high quality business planning and start-up consulting services with end-to-end support and hand holding to avoid costly mistakes and save management time in dealing with business practices, market projections, financial considerations etc.
If you were one of the performers or audience at the event, tell us about your experience in comments below and we will share the best feedback's at our social media portals 🙂