KAARYAH – CA Nidhi Agarwal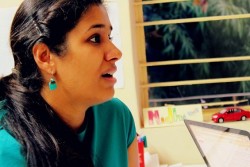 Perseverance and unabashed courage to solve a problem faced by millions of Indian women gave birth to KAARYAH. An online brand of western, non-casual wear for Indian women, focusing on providing the best possible fit is KAARYAH. The face behind this revolution is Nidhi Agarwal, a Chartered Accountant and MBA by qualification. Nidhi has previously worked in Bharti Airtel, KPMG, Bain Consulting and Honeywell, in the domains of audit, finance and strategy consulting before leaving it all to start her own venture.
In conversation with CA Diaries, she recalls "It all started with a basic white shirt. Having spilled coffee on my shirt before a meeting, I tried to buy a basic white shirt to replace it but couldn't find the right fit. There were issues with fit, comfort and variety".
This triggered the analytical and consultant mind of Nidhi, making her think that she must not be the only one who faces such problems while buying non-casual wear. After surveying over 250 women, her belief was validated. Limited experience in the field of fashion and clothing didn't deter her and she started doing her homework on the market. She even started working with an export house to understand the business and fashion better. The next step was obvious and yet just as frightening, Nidhi decided to leave her job at Honeywell to start KAARYAH and become an entrepreneur and a trend setter.
Almost two years since the inception of KAARYAH, Nidhi reflects "It is exhausting in all aspects- physically, emotionally and financially yet it's one of the most rewarding things I have done and there is no turning back." Being a Chartered Accountant and having worked in corporate for many years, it was no longer theoretical knowledge for her. Nidhi actually used the methods/ techniques/ principles, to ensure KAARYAH was process driven from starting.  She mentions how unit economics, internal controls, accounting, etc. were applied in the organization to ensure smooth operations. In terms of business model, Nidhi again approached it in a problem identifying manner and realized the biggest costs that retailers incur are on inventory and rentals. To address this she designed KAARYAH's model as a Just-in-Time manufacturer with outsourcing manufacturing to trusted vendors who adhere to the quality and standards KAARYAH ensures. This has worked well since KAARYAH has doubled through past 12 months without doubling the space and has used technology to increase its scale and reach in the market.
KAARYAH's focus is on brand building, to be best known for its styling and fitting for Indian women and has managed to penetrate markets in smaller cities too through market place model. To address the issue of fitting, Nidhi being a chartered accountant and excel expert came up with an algorithm for determining the appropriate size. A survey was done with over 1500 women to establish this. The algorithm based on the measurements provided by the client, helps them find the best fit for them out of the 18 sizes and thereby distinguishing KAARYAH from its competitors.Women have responded to KAARYAH in a very positive manner. Nidhi recalls a compliment received from a customer which really struck home, "It looks like someone thought through it (garment), maybe some other women who has faced similar issues in the past".
The humble beginning was done through self-finance and also with the support of family. However,every start up needs an angel investor for making it big and after 113 failed pitches(the most difficult things she has ever done), she finally got funding. Mr.Ratan Tata, invested in KAARYAH. Each failed pitch was a learning experience for her. She recalls her first pitch in front of 80 odd seasoned investors and after the pitch finished she heard one of the investors say "Arey isse batao ,aise paise nahi milenge (tell her, she will not get money like this)".For a beginner, it was extremely disheartening for her, but she took it as a lesson. It made her reason out and arrive at what was in it for a seasoned investor.
She describes the initial phase as a compression chamber, from where you come out stronger; you learn to stay your path, to communicate your ideas better, understand investor's psyche and keep the faith of people in you intact. Soon they will come out with the announcement of Series A funding.
Nidhi credits her family and their continuous support for all the success she has had. She calls her father as her biggest inspiration and her Angel, who has made her what she is today and for staying grounded and never taking money and success for granted.Despite her work she enjoys to work out, travel, cook and watch movies.
On being asked what advice she would give to other budding entrepreneurs/ Chartered Accountants, she says "Just know where you want to be and be focused. Be fearless while pursuing it and have no regrets". Nidhi is true inspiration and a fearless person who is set to achieve greater benchmarks and take KAARYAH to even greater heights.
You can check out their website by clicking on the following link : http://www.kaaryah.com
Share with us if you have a similar story and if you are a Startup CA by sending a mail to editor@cadiaries.com and we will take your story to the world.