Chartered Accountants v/s Engineers
Having gone through an acute churning process called examination, we, Chartered Accountants tend to develop a superiority complex. Are we wrong? Of course not! Working with a team of engineers in a cross-functional Internal Audit department, my belief has indeed been validated. Here are few reasons why:
1. We believe in Equality: Hence, we don't rag our juniors. After all, there is always a risk that a junior of yours might become your senior after two attempts. If I am not wrong you engineers have to call your seniors in college, as sir and ma'am!
2. We get stipends: Irrespective of the amount, the fact is that we, Chartered Accountants earn money even as students. Last time I checked one of my engineer friends was actually paying money to get some internship.
3. You can't buy a CA degree:It doesn't matter if you are the son of Ambani, the fact remains that there are no freebies in CA. CPT> IPCE> Final is the only route. There are also no management seats/ donations accepted.
4. Better rate of booking tatkal tickets: It is no small feat,having at least 3 years of experience in dealing with income tax site and last minute return filing, we know all the tricks to book a tatkal ticket.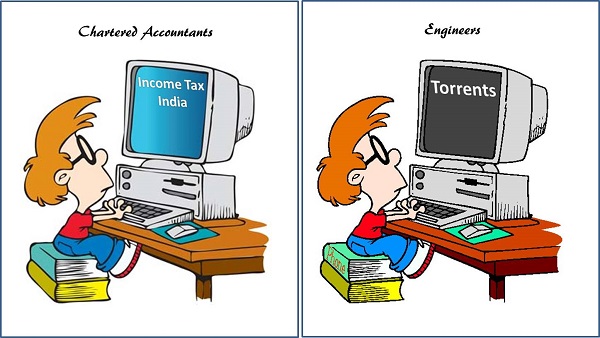 5. We are the preferred choice: Try this! Make two profiles on shaadi.com. Keep everything same except the qualifications. Have one as CA and the other as an engineer. I bet that the CA profile will get at least 10 times more responses than that of the engineer.
6. We do what we are meant for: You take pride in the fact that you are multi-dimensional and can do whatever is offered to you. Or is it like this that you have to do whatever is offered to you. Otherwise, why would a civil engineer work in a bank or a mechanical engineer will be doing coding?
7. We are Post Graduates:Enough of being mocked at, as being 12th The notification of Association of Indian Universities (http://goo.gl/WY0U82) will clear all your doubts. More than 105 Universities across India acknowledges CA as qualifying criteria to pursue the PhD course. While you engineers are only graduates!
8. We earn more:I don't think this point needs any explanation. It's a fact!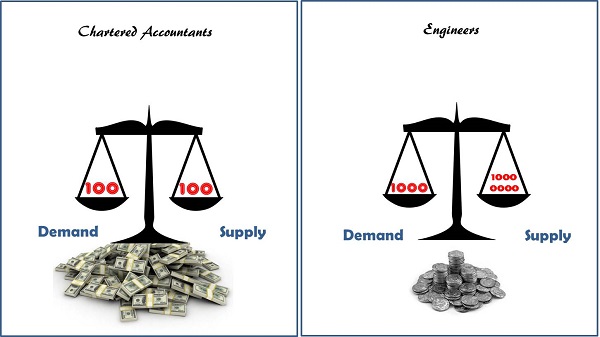 9. Reservation…. what? Hardik Patel can call for an all India strike. Yet, he can't be a CA because of his sir name.
10. Better sex ratio: We are not claiming to be HR people, but surely we are not civil engineers either. CA presents equal opportunity to men as well as women and so there is uniform presence.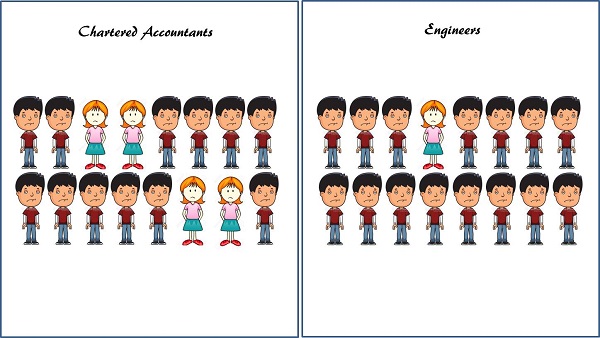 11. Respect:Introduce yourself as CA, they all welcome you and greet you warmly. Tell them that you are an engineer… well nobody cares!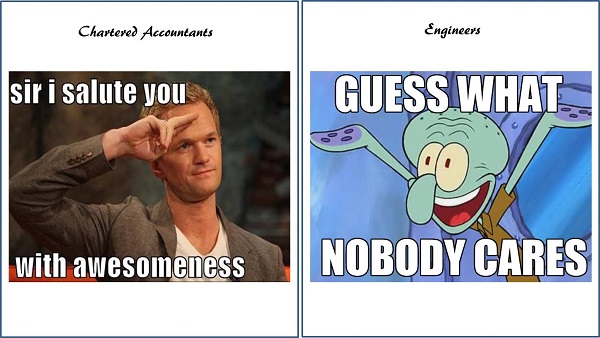 No offence to any of my engineer friend. Keeping everything aside, I will have to confess that you engineers truly know how to live life. While, we spend most of our life in sections and excel sheets, you don't hesitate to go out and explore the world. From engineers, I learnt that it's okay to wear a T-shirt once a while to office, it's okay to make some noise and it's perfectly okay not to be perfect all the time. Dedicated to all my engineer friends and colleagues!
Are you a CA/CA Student? Write for the India's first E-Magazine for the Chartered Accountants and share any interesting 10 Things about Chartered Accountants with us at editor@cadiaries.com. The best write ups shall be featured online with the author's name and profile.