Aurangabad to Mumbai : Towards a new beginning
19th January 2015 – a day full of anxiety, a day full of hope, the day of the result. It is not just about passing or failing but about the direction you head in thereafter. With butterflies in my stomach, I had felt nauseated on hearing that the result was out. While the cell had started ringing, messages flooded my mobile and suddenly everyone in office started asking. I on the other hand was still not prepared to login and check. Finally my friend, Swapnil checked it for me and announced that I was a CA. Tears of joy filled my eyes,and celebration was the mood in the office, with everyone being equally happy for me.
After absorbing the joy, I soon grew quiet. Thoughts like: what could be my next step – job or practice, my preference for work place, did I wish to pursue any further courses, started flooding my mind and gave rise to ultimate question – WHAT NEXT?
Subsequent to appearing for a couple of interviews and considering starting my own practice in my hometown, I realized that you need to be very sure about what you want to do after adding the trusted tag of CA to your name. Alkesh sir had spoken to me about a law firm with a major practice in indirect taxation. This seemed to bean appealing option because I could relateto it, and also as it was something that I had worked on during my articleship. I decided to join the firm. The only thing that hitched me was the job location – MUMBAI.
MUMBAI – it is infectious. Once you start living here, working here, you can't think of living anywhere else,"It's not so much what you learn about Mumbai, its' what you learn about yourself".
As I saw the skyscrapers pass by I could visualize myself as a fish brought from a pond and put in an ocean. The thought that worried me was how I would get familiar with the things around. I had been travelling across the country on my own for presentations but that used to just last for a week. The confidence level possessed to explore places fast depleted in Mumbai.
However, I wasted no time in trying to figure out things. To start with, I learnt about 'M indicator' – a savior for the new comers. This app helps to figure out the connectivity by local trains.For almost a week I tried to explore a new route to reach office, with some advice from my colleagues and friends here. Reaching the desired destination seemed like completing a level of 'Mario' without losing any life. The best mode to commute is by the local trains. If you happen to travel from Virar to Churchgate during the peak hours, take a bow, you are then fit to survive anywhere in the world.
I woke up to the realities of corporate life after my sweet dream of articleship. Everyday new work in the form of research made me feel I was on some kind of mission. My office colleagues proved to be of great help in my learning –professional as well as with the practicalities of life. I enjoy my work of using varied softwares and also of reading books from our office-maintained huge library where you get everything dating from the inception of the Acts till date.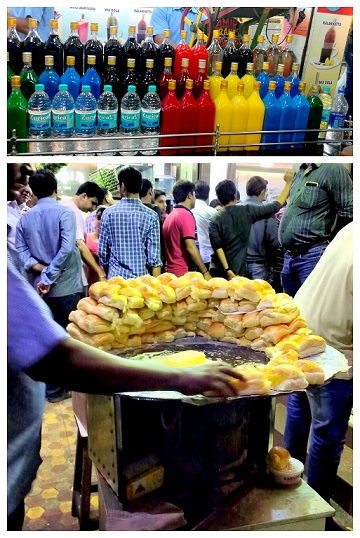 The spirit of Mumbai is within its people and within its culture – that is nothing butthe Bombayya style. Every person who looks forward to the tag of being a 'Mumbaikar' has to go through a checklist:
Love for Vadapav
Catching a moving train, DDLJ style
Ready for rain showers anytime
Guide all the directions asked for
High patience level but know how to argue if need be (specially in local trains)
Finding it strange if you are not stuck in traffic
Relaxing at Marine Drive
The first place that one being in Mumbai (including me) likes to explore is undoubtedly Nariman Point. The 'Queen's Necklace' is a common word for the sea view comprising Nariman Point and Marine Lines and ending at the Girgaon Chaupati. Sitting at this place, the waves washed away the inner worries I had about this city and left me with the sparkling sand of the city's' generosity in welcoming new people. After spendinga couple of hours there, I was ravenous and made a move towards Chaupati for savoring the famous Bombay chat, sandwiches and ice golas. Bhutta (sweet corn) is the most relished thing at these places.The hawkers serve you so enthusiastically while you are seated on a mat put over the sand that you start feeling like a celebrity. They accompany you to their stalls right from the entrance.
Exploring new places was my task for the weekends. With the pleasant company of my new friends and roommates, I have so far been to Gateway of India (one should take a ferry ride here) and the famous Crawford market(huge market for household articles awaits you here) and CST (also called VT).
Apart from being a home for all the National & International brands, Mumbai hosts street shopping at the Fashion Street, Colaba, Linking road, etc. One can get all sorts of clothing, footwear and jewelry here,with the trendiest collection including the ones found in movies and TV serials. My roommate Monica and I indulged our addiction for shopping on the street of Colaba. You get to shop for all the rustic yet trendy jewelry, first copy of few garment's brands and second hand books. After our hectic shopping spree there, we used to head for Nariman Point.
If we shop at Palladium – house to several brands, then our next destination would be the Worli sea face. Other places to be near the sea are Carter Road and Band stand. Once I had been there and saw hundreds of people standing at two different places and concentrating in one direction for quite a lot of time. My friend told me that it was Galaxy Apartment and Mannat the residence of Salman Khan and King Khan respectively. I experienced the true spirit of a fan for seeing their admirers,just for a fraction of a second.
The release of a movie is always eagerly awaited by the people here. Be it a blockbuster or multi-starrer, people here are not very particular with the cast, story or director. Here you will find a blend of the old and the new culture. Apart from the Multiplexes being present in each area of the city, people are also keen to watch a movie in the art deco theatres like Metro, Eros and Regal which date back to almost 80 -85 years.
Coming to the places I have walked around eagerly are the food joints. I am very patriotic towards Indian food but things I have never heard of or tasted before and that too with a unique concept are always welcomed by me. The first time that I had been to such a place, which is now my all  time favorite, is Spice Klub. After waiting for an hour and half, I entered this place and immediately fell in love with it. Right from the dinning to the dishes, everything caught my attention due to the creativity. The snacks one shouldn't miss here include Pani Puri, Papdi chat, Pav Bhaji fondue, Vada Pav and Nanjas. They have infused technology in these much loved Indian dishes and have provided a new edge to their tastes. Other places that I frequently visit include Sardar Pav Bhaji, Madras café, Bhagat Tarachand and Kalbadevi's Khaugalli. It happens only in Mumbai that you can relish everything from pav bhaji to south Indian food even at four in the morning.
You can learn management lessons from each and everyone around you – from dabba wallas to the high end professionals. My life has taken a new turn, at office I am assigned with a new work almost every week.This keeps me going on with my urge to learn new things professionally. I live a completely different life from the Chartered Accountants in conventional practice, without worrying for due dates, filing returns, etc. After an energetic start on every Monday working, I look up to Friday so as to start outlining my weekend program to explore new places for entertainment, fun and food. This is how I keep balancing my life over the week and wish to keep continuing the same for the weeks to come…..
Chartered Accountant by profession and emotional by nature. working for a reputed law firm. Has avid interest in reading, cooking(food and stories both) and travelling. Extremely fond of talking.
Share with us if you have any travel stories where your work took you to new places and be featured at India's First E-Magazine for the Chartered Accountants – CA Diaries. You can mail us at editor@cadiaries.com, for more information have a look at My CA Diaries Entry.