Gaurang Makhija – Wizard of Palette and Brush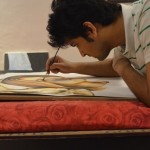 Right from kindergarten, blank sheets and the aroma of crayons attracted him. At the age of four, when most of us were struggling to hold our pencils, he was creating sketches of Lord Krishna and Lord Rama. As he grew, the attraction was nurtured by hard work and the passion blossomed, producing some of the most beautiful masterpieces.
Born in the city of Taj Mahal, he is Gaurang Makhija, a prodigy, a self-taught artist and a CA Final Student. Winning numerous competitions at school level, Gaurang got his big break at CA Students National Convention 2013, where his paintings were exhibited to thousands of people. He has also been featured on the cover of India Talent Magazine (Jan 2014 edition).
At the age of 23, he has portraits of Marilyn Monroe, Jenifer Aniston, Mila Kunis and Robert Downey Jr to his credit. His last portrait, of Emilia Clarke, was a digital painting delineated using a stylus on a Note 3 screen. "I am just passionate", explains Gaurang about his love for painting, "All I feel is, there is something which I can create and recreate in a more innovative manner. I feel like a wizard saying- palette and brush, fulfill my wish".
People often ask him why he opted for CA, but Gaurang was clear that we wanted to pursue a well reputed course. Despite the demanding nature of the course, amazingly, most of his artwork has been created during the Articleship. As he describes, "A good detailed work usually takes 24 to 30 hours of time. I managed an hour or two after I got back home after office hours. Sundays have been a good investment. And then, if it's your passion, I'd say, it deserves your sleepless nights".
Apart from his artwork, he is a guitarist and has been the Mr. Convention in the fashion show competition at the 2013 convention. Despite being multifarious, he has always remained grounded. When asked about his future plans, he was very much focused and replied, "Currently my aim is to clear the exams and secure a job. Gradually, I'll be focusing on my passion as well".
To sum up, in his words, "Earning money is not difficult, but earning happiness with what you actually want to do, is. CA is what I want as a designation, but art is my identity". And we applaud his sincerity and dedication towards both, his career as well as passion.
You can follow Gaurang and his art work on his Facebook page at Hues Of My Art – Gaurang Makhija
At CA Diaries, we wish Gaurang all the best for his future as a Chartered Accountant and as a 'Creative Artist'. We would also like to thank him for creating such a beautiful poster for our event, 'Freedom Festival'.