Gene Bandhu – CA Kapil Gupta
In a country which lags behind in the field of medicine, CA Kapil Gupta, a practicing Chartered Accountant, has become a source of inspiration. Further, if we think about it, a person from finance background, to devote himself to enabling medical development and awareness is surprising and more importantly commendable. Kapil Gupta, has spent last twenty years to the establishment and working of three charitable projects, 'Bharat Stem Cell (GeneBandhu)', 'Safe Blood Organization' and 'Strot'(Strengthening The Roots Of Tomorrow). He has invested his time, energy and finances to the cause. There are no holidays for him, no Sundays but you can see that he is a happy man, full of enthusiasm.
The journey started way back in 1995, when during a visit to AIIMS, Mr. Kapil met a man from Bihar who was suffering from mouth cancer and required immediate surgery. The same could not be done since as per the protocol for surgery, blood bank required six bottles of blood. The man being alone the city could not provide the same. This disturbed him a lot and he consulted his friend Dr. Raina, as to what recourse was available. Realizing that there was no immediate recourse available, he convinced few of his family members and along with them went to donate blood for that man, but by then the man had already left the Hospital without having the surgery and he was never to be seen again.
This poor man's plight was the source of inspiration and motivation for Mr. Kapil to do something in field of blood donation. He started creating awareness among people regarding voluntary blood donation, breaking the myths and how the same can help save lives of many. The start was humble, with three people (Dr.Raina, a volunteer and himself) and a diary to keep record of volunteer donors. All this was done with the support of friends and family. The funding was majorly done by the founders themselves. Even with such limited resources and odds stacked against it, the organization grew pillar to pillar over the years.
Around 2010-11 another incident happened to change the course of things. A man, about to loose his 23 year old son to Leukemia, took Dr.Raina for drinks and asked him what was he doing about people in need of stem cells, since nobody else in India was working towards that. This lead to another brain storming session between Dr.Raina and Kapil and Bharat Stem Cell or what is now Gene Bandhu was born.
Stem cells which can be found in Bone Marrow are similar to building blocks that grow into any normal cell of the body like red blood cells which carry oxygen or the white blood cells which fight infection or platelets which stop bleeding. Stem Cells are required by patients suffering from blood related diseases such as blood cancer, Thalassemia, etc. to help them fight the infection and stay healthy. Stem cell transplant is much more complicated than blood transfusion in terms of process and finding a match. Possibility of finding a match among unrelated stem cell donors is 1:10000. Bharat Stem Cell Registry (BSC) is one of the few stem cell registry in India registered with international registries and acts as a mediator between patients and registries across the world as per international protocol.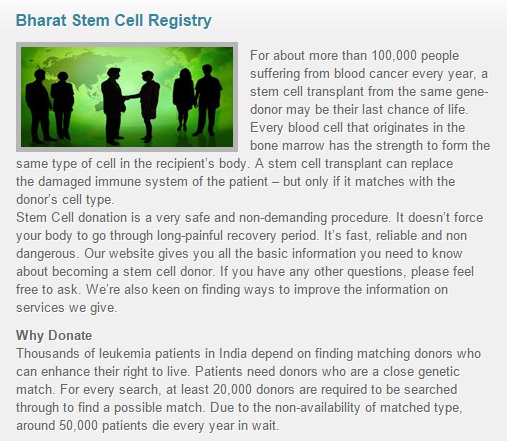 BSC itself maintains a database of over 1000 stem cell donors and has over 4000 samples to be tested and registered in the database. The concessional cost of testing one sample and entering the same into the registry is around 15000 Rupees. The organization intends to expand the database further to increase the probability of finding a donor within India itself and reduce the reliance on international registry. The target is to have over 1 million donors in the registry. The cost of obtaining stem cells from an international registry can range from anywhere between 15 Lakhs to 35 Lakhs, depending on the country of donor, logistics, etc, the same match however if found in our country itself would cost only about 5 to 10 lakhs. Also, with our population, we can easily form a database and reduce the dependence on other countries. Till date the organization does not have any corporate or government funding and is mostly done by Mr.Kapil, Dr.Raina and friends.
The organization recently successfully assisted in stem cell transplant of stem cell from a donor in China to an Indian patient and has overall assisted in 15 of such transplants. However, this is just a start in this critical area which requires more efforts to enable saving for more lives. In all this, we have to realize that Mr.Kapil is from non-medical background, but when you talk to him it is hard to remember that, even the most technical details were explained to us with such ease and in simple way that we could follow everything. And so we know how deeply he is connected with the workings, from being updated on the equipments used, to the legal procedure, to the banking procedure, he has everything in control.
The organizations also finances nursing education to girls from backward areas. Project STROT  (Strengthening The Roots Of Tomorrow) was started in 2005-06 with funding of nursing education of two immigrants from Kashmir and over the years has helped provide assistance and funding for over 50 girls from Tsunami hit areas, Spiti in Himanchal Pradesh, etc. Nursing school provides a course of around 4 years with fee for each year going as high as 150,000 Rupees per year. But beyond monetary support what Project STROT embarks upon is to provide these girls with the support to develop confidence and sense of satisfaction to be successful and create a future for them.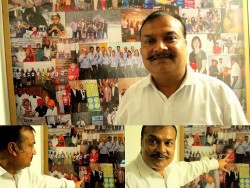 When Mr.Kapil took this initiative nearly 20 years back he focused on each day as it came and now his effort has taken much larger form. His efforts have come a long way from just three employees and a diary and are changing the lives of many. Despite the hurdles the man and his team have never backed out and continued his noble efforts to bring about a change in the society at large. He is man of true inspiration and perseverance who has taken on the challenges by their horns and came out on top.We hope he continues in his efforts and the organizations expand even more.
In case you want to get in touch with Mr. Kapil Gupta or his organization you may contact him at the details given below:
Phone: +91- 98101 25106, +91-98188 30106
Email id: safeblood1998@gmail.com