Genetic Discrimination – CA Sambhav Mehrotra
The Genetic Information Non-discrimination Act is an Act of Congress in the United States designed to prohibit the use of genetic information in health insurance and employment. The Act prohibits group health plans and health insurers from denying coverage to a healthy individual or charging that person higher premiums based solely on a genetic predisposition to developing a disease in the future. The legislation also bars employers from using individuals' genetic information when making hiring, firing, job placement or promotion decisions. Senator Ted Kennedy called it the "first major new civil rights bill of the new century. The Act contains amendments to the Employee Retirement Income Security Act of 1974[3] and the Internal Revenue Code of 1986.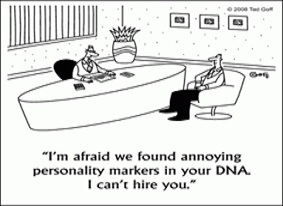 Other countries of the West and even Australia have passed similar laws, which are witnessing change in industrial patterns due to Genetic Discrimination not only in Heath Insurance field but in employment domains as well. These countries already had Genetic testing companies who were providing data to employers based on which, employment criterias were being set. However, if you will talk about our representatives in the parliament, I bet most of them won't even know what genetic discrimination is.
Genetic discrimination occurs when people are treated differently, for example by their employer or insurance company, because they have or are perceived to have a gene mutation that causes or increases the risk of an inherited disorder. A country which is already suffering from caste, religion, sex, colour discrimination, this is another discrimination bomb waiting to explode.
It is said 'charity begins at home'. Belonging to a family whose medical history is not so good, I have now spent about 15 years going to private hospitals and understanding the vicious circle of the mediclaim industry. I now understand how difficult at times it becomes for the patients to handle the exploitation of the law and the unfavourable terms of the TPA(Third Party Administrator) and the insurance company and that too at the time of dire need and circumstances. Recently, in our own case the TPA on behalf of a reputed insurance company refused a claim for dialysis which it had been passing on for 6 years. All of a sudden they qualified the disease as a genetic disease and refused to give the claim citing a clause which says 'Genetic Diseases are not covered'.
Being a founder of an NGO "The Awakening", which I incorporated with my child hood friends to address the problems of the future, we took up this matter of Genetic Discrimination not just for a personal cause but for the society as a whole. When we went out to find out what genetics is, to our surprise even sneezing can be genetically provoked in some human beings. The ever increasing cardiac problems from youngsters to senior citizens can also be substantiated by study of genetics. This opens up the grey area that in future every and any problem related to human body can be termed as genetic and be can be refused for any claim benefits. The claimant might not even know about such problems until and unless something comes to the forefront.
In my case, having a genetic disorder in the family, there is a high probability that it might not render me a good quality life after 45-50 years of age. And there are thousands like me in this country. Now as per the policy terms, insurance company has the right not to grant me the benefits in such a case at a later date. After a preliminary research it becomes evident from the facts that such blanket clause can hamper the whole system itself and we are moving into a phase where insurance companies might use this clause as a tool for exploitation. Such clause is in all policies as the same is governed by IRDA (Insurance Regulatory development Authority) which is the appellant authority for insurance sector.
New start-ups are coming up in India that are specifically working on business model of providing genetic information at an early stage. Private Hospitals have started marketing campaigns of predetermining chances of extreme disease like cancer, or cardiac problems and are minting money out of it. Famous actors of the west are endorsing such mechanism by accepting the facts and surgically getting organs removed even before the symptoms prevail.. With the field of Bio Technology revolutionizing every second, better treatments are coming in place, which are expensive and with the intent of the health insurance sector they do not seem affordable for all, if the genetic discrimination barrier is not broken.
Another big hurdle to fight genetic discrimination is the legal system of our country. Having consulted few lawyers we started off the case with the consumer court. According to awareness campaigns by the consumer authority, the consumer court is expected to solve the case within 3 months. However, in reality, we started our fight in December 2014 and till date, all we have got are dates and as yet, no arguments have taken place in court. I feel pity for those with very little resources, rendering them unable to fight in such circumstances.
To our surprise, majority of the cases that were lined up before ours were real estate ones, where either timely delivery was not done or builder increased the super area without documentation. In the end this country has restricted itself to three things "Roti, Kapda aur Makaan". Without the basic needs of the society being fulfilled, it is a challenge to bring the issue of genetic discrimination in the eyes of the society, along with those who are running this country on our behalf.
The fight is long and it will continue and we will ensure that soon enough we have a "Genetic Non Discrimination Law" passed in our country before the roots of the discrimination sets in.