Being connected to your roots – CA Anil Gupta
CA Anil Gupta is a practicing Chartered Accountant based in New Delhi, being a part of the CA fraternity for over 25 years. He is a distinguished speaker, having delivered over 400 lectures on technical topics ranging from Accounting Standards, Standards on Auditing, VAT audits, Companies Act, 2013, TDS etc. and is a renowned figure in NIRC and CIRC of ICAI.
Apart from being engaged in professional pursuits, he is an active social worker. CA Anil Gupta joined Ganga Sewa Sanstha in 2004. It was his shared belief in 'being connected to your roots' that inspired him to take up this cause and become a part of the organization. Since then, he has taken up various projects for empowerment of the village youth, especially women in our male dominated society.
Ganga Sewa Sanstha, whose slogan is 'मेरागांव, मेरातीर्थ', came into being in 1997 with the philosophy that all of us must be responsible for the development of our native villages/towns. It is an organization that aims at creating employment opportunities for the rural youth by imparting vocational training/creating skill set by providing sewing classes and basic computer training at affordable fees, by adopting 'learn+earn' approach. It's a two way process. The trainers and trainees both are from the same village.
At the end of the course, equipped with skill and a sense of accomplishment, these students become independent and start earning by using these newly acquired skills. The highlight of the achievements of this NGO is that thousands of girls, who were earlier not allowed to step out of their homes to attend school, are now trained and are contributing towards saving the expenses of their household by sewing clothes for their family members; some of them have even started generating income from sewing.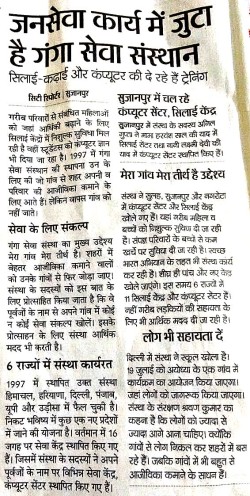 As on date, there are 15 such centers spread across six states – Himachal Pradesh, Haryana, Punjab, Delhi (Nangloi), Uttar Pradesh and Odisha, which has 6200 students as its beneficiaries. In addition to these centers, it is also engaged in running the first school in Village Jalmana (District Karnal, Haryana) for the past 17 years. The current head count of the students of the school is 382.
However, this progress has been made after a lot of efforts. Within the initial years of his joining, CA Anil Gupta realized that the organization lacked the basic policies and procedures in place which was one of the main reasons behind its slow growth. From the year 1997-2004, only two stitching centers, one computer center and one school had been established. Under his role as a General Secretary, tin a span of ten years the number of centers has jumped to fifteen.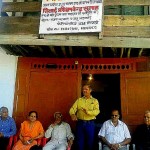 He has also been responsible for designing and implementing a transparent mechanism of running of the organization, so that no obstacle arise in the path of achieving the ultimate goal of creating skill and employment in villages across India. He is behind the core planning and execution of all the activities related to various projects being run in the Centers and schools. For instance, he developed a standard operating procedure comprising of following five simple steps for quick opening up of a center at a village:
1. Identification of the promoter of center, i.e. a person who is interested in opening of a center in the name of his ancestors
2. Selection of location of the center and honorary project manager who will guide the teacher and students
3. Appointment of teacher who should be skilled in stitching, irrespective of his/her level of literacy
4. Student registration process (Minimum 5)
5. Provision of sewing machines and cutting board (for cloth), which is sponsored by the promoter
This procedure was easily understood by the potential project patrons' thereby resulting in a spurt in growth of in the number of projects across different states.
One of the major challenges that he faced during his association with this NGO was the revival of the school administration by rescuing it from the lackadaisical and selfish leadership of the coterie of locals, who were running school at their own whims. In the era of local leadership, there was no system in place to ensure regular collection of school fees; the end use of the funds received by the school was rarely done for its actual purpose. With his involvement, the trustees of the NGO saw the real picture and controls were established to ensure regular receipt of school fees and transparent reporting of the utilization of the funds. The end of the gunda raj of the local leaders has infused so much confidence in school, that students and teachers from at least 15 villages in and around Jalmana are a part of this school. Few of the alumni of the school have become teachers in the same school to pass on the baton of education to the future students.
In spite of his hectic professional life, CA Anil Gupta ensures that he personally visits these centers from time to time, sometimes to help in the setting up of a center or as a Chief Guest at the Inauguration function or as a convener at the Annual function or to resolve conflicts (if any) arising at any of the centers. He aspires to establish a commercial setup where the alumni of the stitching centers can sell the items stitched. It is his vision to open up 50 such centers across the nation by 2019.
In his opinion, taking up such development projects in the villages of India is an effective way of achieving growth from the grassroot level. A brighter India is a better India.